Copyright: 2021 ANR Tree Farm
Last Update 11/01/2021







Wholesale Christmas Trees
ANR Tree Farm has supplied
wholesale Christmas Trees
to independent retailers and
service groups around the
Midwest since 1981. We
have many established
accounts that have
purchased trees from us for
over 20 years...so we know
how to supply our
customers with a great tree
and with great service.
We are a family run farm -
Bruce manages the tree
farm, and personally
coordinates with each
customer. If you want good
quality personal service -
then you've come to the
right place. You get a high
quality tree because we only
tag and harvest the trees we
sell, we do not broker trees.
We shear our trees during
the summer and fall months.
We start the tagging in early
September after the growth
has hardened off and the
new needles have reached
maturity. The trees are cut
in early November with
chainsaws, baled with
Howey twine balers, and
loaded to a common
shipping yard. We try to cut
the tree, bale it and get it to
the loading area the same
day to insure freshness.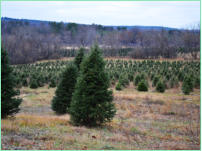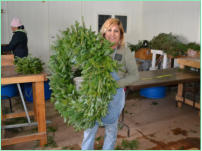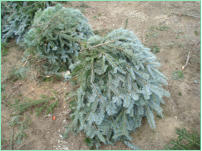 Fraser Fir and Balsam Fir
Garland
All of our wreaths are hand
made` using the clamping
ring system. Since we grow
Fraser Fir's we have the raw
materials available so the
boughs are always fresh.
Our Fraser Fir wreaths are
made with a small mix of
White Pine that is added one
sprig every other clip. All of
the wreaths are
undecorated, please contact
us for sources of
decorations and ribbons.
Our garland is made by
hand. Each bough is cut to
the correct length and
carefully added to the solid
wire core. Most of our
garland is made in 50 foot
coils (that's heavy enough
for one person to carry!).
We can make special
lengths if you request them.
The Garland is make with a
17 gauge core wire, and
weighs about 35 pounds per
coil.


Boughs.
We sell Boughs by the
pound or by the ton.
We cut boughs from natural
trees, from unsheared
Christmas trees and from
the bottoms of harvested
Christmas Trees.
We like to cut boughs that
have a natural tip so they
are better for making
wreaths. The boughs are
cut no longer than 24
inches. They are packaged
in bundles that weigh
between 18 and 40 pounds.
(It varies because we have
many bough cutters who
work under different field
conditions.) When we ship
the boughs, we weigh the
bough bundles separately
or weigh an entire truck
load.
We accept orders as low as
50 pounds.


. . . Quality Christmas Trees from Wisconsin . . .
. .